Thu, 15:57: RT @BarackObama: Retweet if you're glad people with pre-existing conditions can no longer be denied health care. #Obamacare
Thu, 16:06: Got our first batch of Christmas cards almost ready, then realized we have no postage stamps on hand. To the post office... tomorrow.
Thu, 17:48: Nelson Mandela has died. The human race is diminished.
I don't know about you, but I'm tired and ready for some things to smile about.
Mirrored from Jim C. Hines.
Well, there's the story, isn't it?
Meanwhile, I'm working on three different projects at once, only one of which actually has a deadline, and even that's a 'soft' deadline. I find it difficult to take myself seriously without a deadline.....
But if I get things done (and even if I don't) tonight I'm going to see Mythbusters: Beyond The Myth, so it's a Very Good Friday. :-)
Over at Book View Cafe I'm taking a swing at "In The Beginning." Beginning of what?
Originally published at Scott Edelman. Please leave any comments there.
So last night, when we realized we'd be cruising through Frederick, Maryland at around 8:00 p.m. without having had a chance to eat dinner first, we realized—hey, this is finally our chance to eat off Family Meal's dinner menu!
Irene and I have had many brunches and lunches there, starting last July right after they opened. But for a variety of reasons, dinner remained elusive. And so, as we neared Frederick on our way home from a day down county, we thought—gotta be Family Meal!
Turkey pot pie fritters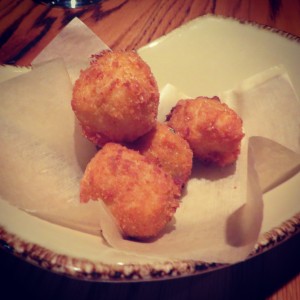 We'd had chicken pot pie fritters during our second lunch at Family Meal, but never the turkey ones. Glad I finally got to pop a few of these in my mouth. Best delivery method for pot pie filling ever. Better even than pot pies themselves!( Read the rest of this entry »Collapse )


And now? Time for some writing before the soup is ready. And yes, I did -- finally! -- accomplish some writing/drafting last night.
Where my day went: A walk, a visit to the gym, Visit to the dermatologist which resulted in 2 biopsies (Yay, needles! Actually, YAY, in all seriousness, for tiny little needles that only cause a little prick or two), a quick yogurt lunch, a visit to the Soc. Sec. Admin office, wherein I learned that Social Security is apparently not for older Americans, but younger ones who are most likely applying for disability benefits, even though most of them look more than qualified to work (and I will shut up about that now, but really, what an eye-opener, and I wish there was a way to stop the abuse of the system), the rest of the Christmas decorations applied to the house and tree, and now an aromatherapy-pot of split pea with ham soup simmering on the stove, while the fireplace nicely heats the room, and the tree and candles create a nice ambience. Mmmmm.
announcing Without a License: The Fantastic Worlds of Keith R.A. DeCandido
Having said that, I have a bunch of stories I
do
control, including ten Cassie Zukav stories, ten
Dragon Precinct
stories, and nine others besides (one of which was bought for an anthology that was never printed, another of which I never sold). So Dark Quest Books and I have gotten together, and we're going to put out a collection of my short stories called
Without a License: The Fantastic Worlds of Keith R.A. DeCandido
. (Thanks to Christopher L. Bennett for the title and Elektra Hammond for the subtitle.) Look for it some time in 2014 or 2015.
The collection will include (not necessarily in this order):
---a new Dragon Precinct story
---a Cassie Zukav story (I'm still trying to decide which one to reprint)
---"The Ballad of Big Charlie" (from V-Wars)
---"-30-" (from the Viral miniseries of novelettes, conceived by Steven Savile)
---"The Stone of the First High Pontiff" (from Defending the Future: Best-Laid Plans)
---"Sunday in the Park with Spot" (from Furry Fantastic)
---"A Vampire and a Vampire Hunter Walk Into a Bar" (from Amazing Stories)
---"Editorial Interference" (from Circles in the Hair)
---"Under the King's Bridge" (from Liar Liar)
---"Behold a White Tricycle" (a story I sold to the 44 Clowns: 11 Stories of the 4 Clowns of the Apocalypse, which never actually got published)
---"Wild Bill Got Shot" (a short-short I wrote for "Two Beers and a Story" at some convention or other, but never actually sold)
While I've written some 65 works of short fiction, most of it has been in the world of media tie-ins -- which means I don't own the rights to them and don't have the authority to sell them for reprint.
Current Mood:

pleased

Current Music:

"Jacob's Ladder" by Bruce Springsteen